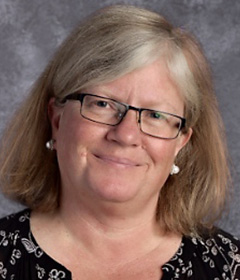 Mrs. Theriault, Administrative Assistant to the Principal, will greet you as you enter the school and church office. She is happy to assist families and answer any questions you may have about the school. Mrs. Theriault also leads Immanuel Lutheran Church's Board of Evangelism.
Miss Kinney, Certified Health Aide, addresses minor medical issues that arise at school. She also maintains health records and monitors student medication administration. Miss Kinney also serves as our Extended Care Director. Miss Kinney is happy to speak with parents about any health concerns, or Extended Care questions.
Immanuel Lutheran School consists of two classroom buildings and the Church sanctuary. The original "Old School" is used during the school day for its cafeteria and kitchen on the ground level.  Students attend classes in Visual Arts, Theater Arts, and Music on the main level of the Old School.  Archives and devoted rooms for clubs and activities are housed on the top floor. The Main Building holds thirteen classrooms, and includes a library and full-size gymnasium.  Our gym is complete with a stage, locker-rooms, bleachers, electronic scoreboard, six adjustable hoops, and a complete commercial kitchen. The Old School cafeteria and the gym are able to be leased for special events outside of school hours.  To reserve space for non-school related events, please contact Trina Theriault at 860-583-5631.
School Hours and Extended Care
Extended Care is offered to families both morning and afternoon. The school day is 7:50 AM to 2:25 PM. Students may be dropped off as early as 7:30 AM. All students must be picked up by 2:30 PM. Extended Care, which is housed on the main floor of the Old School, is available to all students from 6:30 AM until 7:30 AM, and again from 2:25 PM until 6:00 PM.
Buses are available through the Bristol Board of Education for our students who are residents of Bristol. Students coming from surrounding communities often carpool to and from school. We are happy to help our families make contact with one another to facilitate ease of transportation.
Supervision of students begins at 7:30. Students begin each day outside, weather permitting, for fresh air, exercise, and social interaction with peers. On inclement weather days, students are supervised inside the building. At 7:50 students are collected by their teachers and proceed to their homerooms to prepare for the day. Students are tardy at 7:51. From 8:00 to 8:10, Kindergarten through Grade 8 students assemble on the top landing of the Narthex for the daily student-lead opening. This daily welcome includes pledges of allegiance to both the American and the Christian Flags, a Bible verse, announcements for the day, and a song of praise to start the day. Students then return to their homerooms for a brief devotion and are off to their first subject of the day.
Lunch and recess are between 11:30 and 12:15. Lunch is typically served in the Old School Basement. Recess is in the playscape and on the gated blacktop weather permitting. Each class gives thanks before they eat. Younger students have lunch followed by recess. Older students have recess followed by lunch. Volunteers prepare hot lunches and salad/potato bar several days a week. Sandwiches and pizza from local establishments are also brought in as lunch options. Students may select hot lunch choices from a monthly menu. Hot lunch is $4.00 per meal. Milk is an additional $.50 and is optional. Students who choose to bring their lunch are welcome to buy milk as well.